WWII Research Project: Assist Author C.D. (Pete) Peterson with Your WWII Memories
When:
September 14, 2017 @ 1:00 pm – 2:30 pm
2017-09-14T13:00:00-04:00
2017-09-14T14:30:00-04:00
Where:
Elmwood Hall Danbury Senior Center
10 Elmwood Pl
Danbury, CT 06810
USA

Contact:
Elmwood Hall / Danbury Senior Center
203-797-4686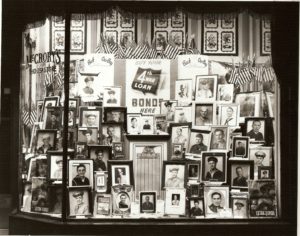 Were you or someone you know born in the 1930's or before? 
Would you like to be a part of documenting
that time in history for the generations to come?
The Danbury Senior Center is partnering with the Danbury Museum to help find seniors who were born in the 1930's or before and have life experience during WWII.  We are trying to assist writer/researcher Pete Peterson gather information about this time for his book and an addendum of blog posts. Here are Mr. Peterson's words about this book and project:
My interest revolves around my fear of losing the collective memory of a generation, a very unique generation. Born in the 1930s we are small in number and all aging into our 80s. We are what I call "The Last Ones." We are the last who can remember the war, its rationing, its tensions and its joyous end. We are also the last ones who remember the post war boom and the formation of the American Middle class. We are the last ones who grew up without television; instead imagining what we heard on the radio. We are also the last ones who grew up feeling safe. By the mid-fifties all that began to change. Some call us The Silent Generation. That may be the case, but I hope my work on this blog can capture and celebrate the memories of other children of the 1930s from around the country.
Mr. Peterson is looking for people who would like to share what they remember of the war.  Please call or sign up at Elmwood Hall – Danbury Senior Center for this event that will take place on Thursday, September 14 at 1:00 pm.